Relax. 
Allow for the unexpected. Let your wedding day unfold how it's going to happen. That might mean unexpected weather, forgetting that bracelet you wanted to wear, or events just running way off schedule. These things happen. Stay Calm. Keeping relaxed and open-minded will show through in your photos.. as will stress and anxiousness. Remember to just be in the moment and enjoy, don't sweat the small stuff.
Be yourself, forget that you have a camera following you around for the day. The best photos are the ones of relaxed and happy couples just being themselves and doing what they do.
Trust your photographer. 
Of course if you have something/someone particularly sentimental/important or unique that you'd like captured be sure to point it out to your photographer, but don't hand them an extensive list of every single shot you want.
Allow your photographer to do their job and to be creative and capture all the natural candid moments they unfold in front of them. If they're too busy following a specific shot list, they may miss those beautiful candid moments.
Getting Ready. 
Try to have your makeup/hair and getting dressed in areas where there is lots of natural light. Think big open windows.
Think about where this area might be and remove anything from those areas you wouldn't want photographed (clutter, that big pile of washing, those types of things..)
Have all your important items you want photographed (the rings, shoes, perfume, jewellery, etc) in one area ready to be photographed to minimise time trying to located all the items, or have any missed.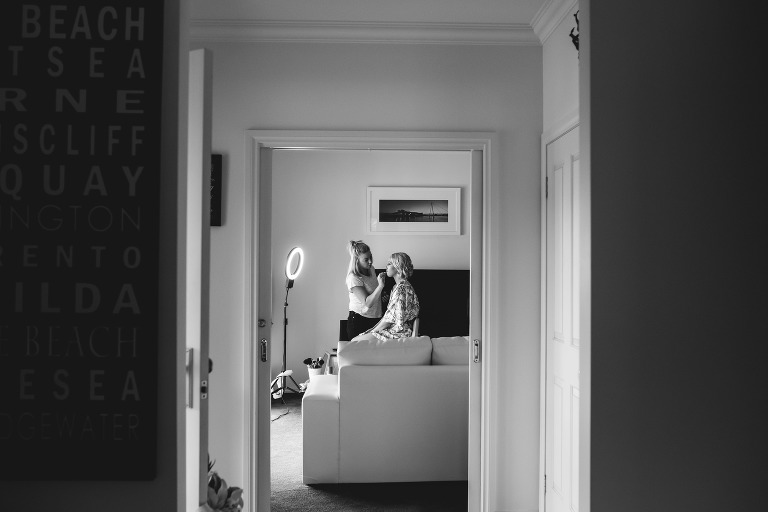 First Look.
One of the most memorable events of a wedding day is when you get to see your partner for the first time. Sometimes having this moment at the altar is most important to some couples, sometimes spending more time with guests is.
A first look is non-traditional, but if you'd rather ditch the portrait session after the ceremony and spend more time enjoying the wine and canapés with the guests, a first look is for you!
However a 'first look' can happen very early in the day which can often mean less than ideal lighting, make sure you leave time where you can sneak out of the reception (usually around meal time) and away from the craziness with your new husband/wife for about 10-15 mins to ensure you capture some of the dreamy sunset light.
The Walk.
In can be pretty nerve-racking walking down that aisle knowing all eyes are on you! It's common to let nerves take over and look down at the ground and hurry to the end..  Make sure everyone walking down the aisle keeps their head up, breathe… walk slowly, stand up straight.. and smile!
You want each bridesmaid to have her own moment. Have each person wait for the person in front of them reach the end of the aisle before starting to walk. This ensures each girl gets captured beautiful without any rush.
Centre of Attention. 
If you've planned a gorgeous arbour or arch, or your venue is just very symmetrical, it's important you mark out where the centre is between you and your partner, or all photographs are going to be off centre. You can also ask your celebrant to take note where the centre is and discreetly usher you and your partner into that spot before the ceremony commences to ensure perfectly symmetrical photos.
Outdoor Ceremonies. 
Generally, the best time for an outdoor ceremony is 2-3 hours before sunset. (Leaving at least an hour before sunset for your portraits). The later time ensures the sunlight falls more evenly across face so there are no harsh shadows. Middle-of-the day-sun can leave one of you in the shadows and squinting at each other for the whole ceremony.
Outdoor ceremonies can also mean wind, especially at the beach. Make sure you style your hair, secure your veil, and overall plan for anything that might fly away or be in your face if it becomes windy.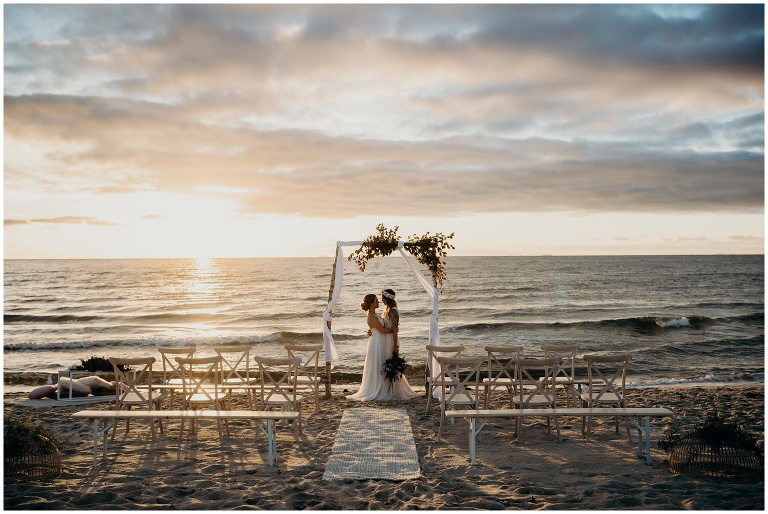 Church Ceremonies.
Before you book your church, be sure to ask whether photography is permitted and if there are any restrictions. Some churches will not allow photography at all, or in some areas of the church, so it's important for you to know if particular shots are important to you.
Going Unplugged. 
Consider restricting guests taking photos/videos at the ceremony. Why? Because no one is truly engaged in the moment when everyone's watching through a screen.
You are spending big money on a professional photographer who can be blocked from capturing great shots because guests are holding phones in the air, in front of their face blocking great reaction/emotional photos, or stepping out into the aisle… and I assure you, the professional photos will be better than any iPhone captures.
Have someone (usually the celebrant) make an announcement for your guests to turn off their cellphones before the wedding ceremony and to refrain from taking pictures during the event, and have them explain that its your personal wishes, and not the wishes of the venue or photographer, as guests will usually take the request more seriously.
The Kiss. 
Google some 'Wedding Kiss Photos' and  take note of where you would prefer to place yours hands/arms during the kiss, and practice that a couple of times before the big day. Crazy arms can be a bit awkward if you're unsure what you're doing with them! A little practice will make it all feel much more natural.
Hold your kiss for at a minimum of 4 seconds (it feels like a long time I know!).. or go in for a second kiss. This gives your photographer the chance to ensure they capture the magic perfectly.
The Exit. 
You're officially married! Time to walk back down that aisle. It can get a little overwhelming with everyone wanting to congratulate you along the way, but don't loose touch of each other!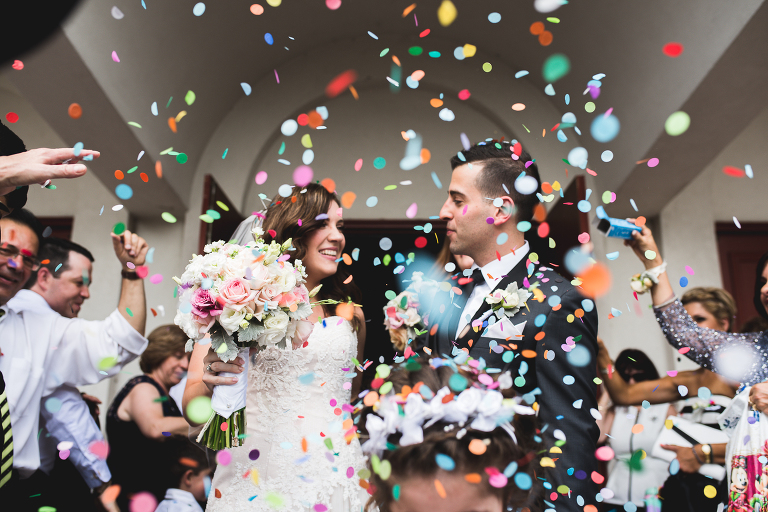 Group Photos. 
If you're planning on having a large group photo, make sure you have discussed with your celebrant so that they can announce where and when it will take place before everyone starts to wander away in search of drinks!
Consider doing the group photo where the ceremony is, or directly outside. Keeping everyone close and in one place makes this much easier and quicker.
Family Portraits. 
This is always one the trickiest parts of the day. It's understandable everyone is excited and Uncle Bob and Aunty Mary wander off to mingle with family and friends, and suddenly are impossible to find for your family photo.
Write a list of all your family portraits that are important to you. Make sure you speak to each of those family members and make it clear they will be needed immediately after the ceremony for photos.
Select a close family friend (with a loud yelling voice who isn't afraid to use it) that knows each of these individuals that can help wrangle any lost member on the list to save time. Time wasted finding people for group and family photos can quickly eat up into your couple portraits, so organisation is the key here!
Bridal Party Photos. 
Depending on the size, (and if you have one at all) the bridal party can also lose track and get easily distracted, make sure they're aware they need to be present for bridal party photos and not to wander away! The photos should take about 15-30 mins (given you're not moving to multiple locations)
They will be up first and once their photos are done they can go and mingle with guests and enjoy the beer and wine.
Couple Portraits.
Allow around 30-45 mins for your couple portraits. The bridal party should be off enjoying the party, and it will be the first time you get a quiet moment together as newlyweds. Enjoy it.
Try to minimise too many locations, a photo is often more about lighting and emotion than it is location. Plus you will be a lot more relaxed knowing you don't have to visit location after location.
Dont worry about 'posing' or being 'in front of the camera'. I promise you guys will look amazing, and with a little direction, everything will look perfect. Just be yourselves.. honestly. The more relaxed you are together, the more magic happens.
Timing. 
The best time for those dreamy, loved-up photos is in the afternoon sun. Planning your portrait session to end with the sunset is something to highly consider. Make sure you check when daylight saving starts and finishes when planning this part.
If that's not possible in your timeline, try to ensure you can sneak out of the reception (usually around meal time) and away from the craziness with your new husband/wife for about 10-15 mins to ensure you capture some of that dreamy light.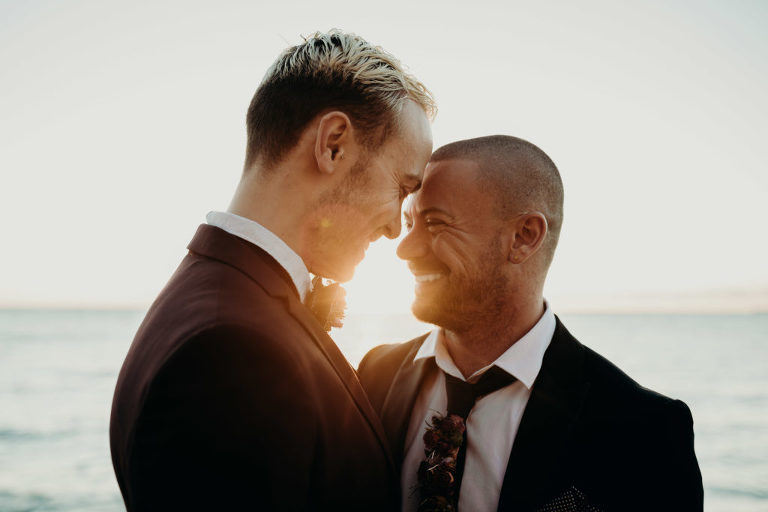 Feed Your Photographer. 
Your photographer is a person too! People don't usually work well when distracted by hunger, and after many hours of shooting energy levels can really drop. Feeding your photographer will keep them full and focused on your day (and they will very much appreciate it!)
The wedding staff are often told to fed last the vendors last, however this can mean everyone else is done and ready for speeches. If you ask for them to be fed at the same time as the wedding party (no-one needs photographs of themselves stuffing their faces) then they'll be done and ready to photograph your speeches directly after the meal.
The Formalities. 
Don't be afraid to show some emotion. Don't be scared to cry when dad's speech is super sentimental. Don't be afraid to have a giggle when you mess up the first dance steps, it's all part of the day, and those little moments photograph amazingly.
The Reception. 
Get crazy, be wild! Hit up that dance floor with your best (and worst) moves! The best reception photos are when people really let their hair down and just have a great ol' time!